Looking for a fun activity for your kid? 
Trio Kids Singapore believes in nurturing creativity, curiosity and comfort through every step of your child's development, whilst bringing joy to your parenthood journey. We bring you our extensive range of educational toys and activities that every school kid will enjoy! 
Benefits of learning outside the classroom 
Getting involved in activities outside the classroom is beneficial for school children in many ways ー these opportunities challenge children with different exciting learning experiences which are not often brought into classroom teaching. 
Today, there are plenty of activities which incorporate various school subjects and developmental skills. In this article, Trio Kids provides you with an array of DIY kits, craft activities and art supplies that will allow your kid to explore the world of endless possibilities. 
Inquisitive Minds 
May it be after school or during the holidays, introducing your child to the world of science is one of the best learning opportunities to explore its endless theories and concepts. 
Apart from books, educational science kits are the perfect alternative for children to learn new science concepts whilst having fun at the same time. Research shows that kids tend to grasp new concepts and skills more quickly when they are introduced to a hands-on experiment, compared to reading from textbooks. This is because these science kits are designed to achieve both a fresh and fun learning experience that every kid will be intrigued by, at the same time fitting in educational concepts which adhere to the national school syllabus. 
Here at Trio Kids, enjoy our variety of science kits that will interest you and your child. These educational kits revolve around STEAM (Science, Technology, Engineering, the Arts and Mathematics) concepts that are recognised by educational institutions around the world. STEM/STEAM-based activities incorporate useful content to solve real-world problems through its creative design and hands-on learning experience. Additionally, schools are also starting STEAM-based learning programmes to better equip students with necessary skills and knowledge. 
Treat your child to a DIY kit and introduce them to new learning concepts ー this can give a head start in familiarising themselves with these different subjects. Furthermore, this fun experience fosters a safe learning environment for your child to think out of the box. If you are looking for an educational activity that will interest your little school kid, look no further ー choose the perfect science kit at Trio Kids Singapore today! 
I Like Science DIY Kit, $39.90
Miracles of Light and Shadow DIY Kit, $39.90
Fun Soap Making DIY Kit, $39.90
Art & Craft Enthusiasts  
Have a child who loves everything colourful and artsy? 
Art and craft activities are great and convenient to foster your kid's creativity! Besides, these interesting activities not only build one's communication, listening and attention skills, but also hold developmental benefits such as fine motor and recognition skills for younger school kids. 
Drawing helps children to release stress, building a sense of self-confidence along the way. When children are involved in an art activity, they are able to express emotions and explore their creativity, may it be using crayons or other art mediums. Drawing activities will also benefit older children, as this will allow them to discover different drawing techniques when creating their unique masterpiece.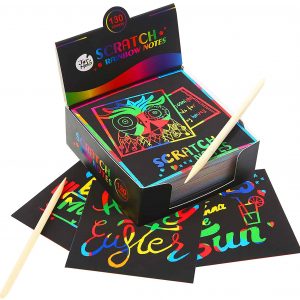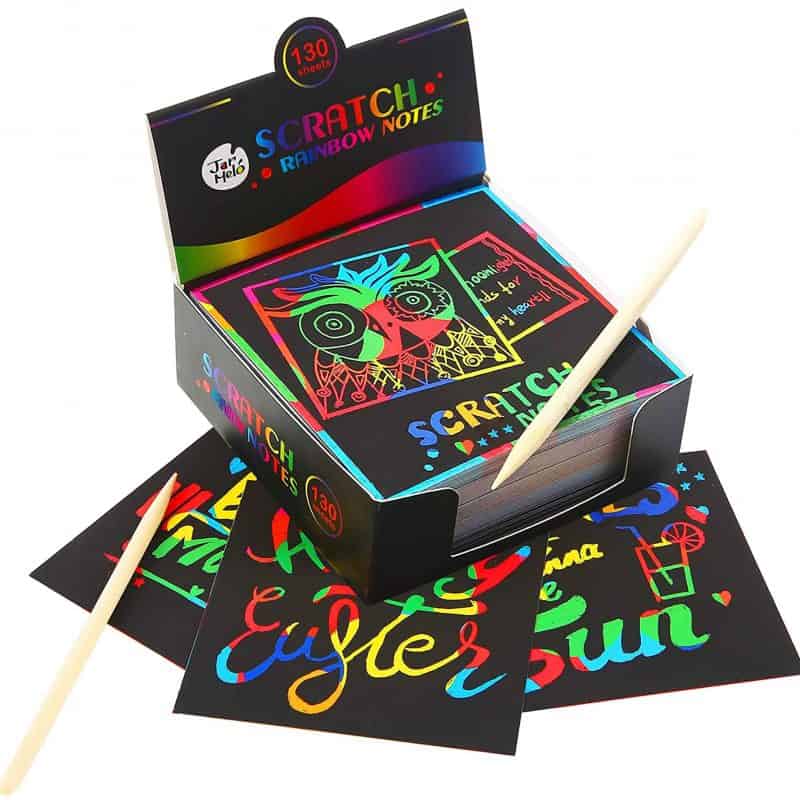 If your kid is into doodling or colouring during their free time, be sure to check out our Rainbow Scratch Art Notes Set by Jar Melo! Each paper comes with a rainbow layer hidden beneath its plain black coating, and its plain surface makes it suitable for both parents and children to have fun with. Use it as an easy doodling activity for your kid, or a unique memo for your office ー the possibilities are endless! 
Rainbow Scratch Art Notes Set, $16.90
Playing with clay is fun for everyone, especially for young children. Furthermore, creating clay figurines brings various benefits for younger ones ー this creative activity allows children to unleash their artistic imagination and is a great introductory tool for kids to learn about the art of clay. Bringing forth activities involving clay also helps in developing one's hand-eye coordination and motor skills, through the actions of moulding and joining clay parts together. 
Clay is known to be a soft and flexible material, which encourages sensory development and builds a child's knowledge of different colours, objects and shapes. Because of its workable material, every child will enjoy the process of creating their very own clay figurine and the freedom to use their creative minds!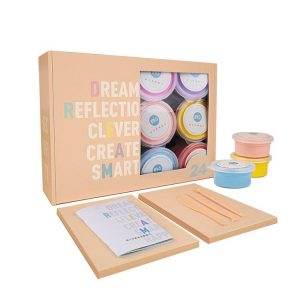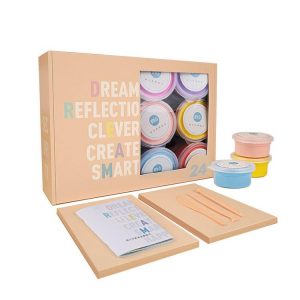 With our Clay Figurine Making kit, there are no boundaries or limits. Consisting of different colourful tubs of clay and a tool set, your child is free to anything and everything they wish. Explore the world of limitless possibilities with your kid today! 
Clay Figurine Making, from $38
If your child is one who loves to let his or her imagination run wild, enjoy our extensive range of art supplies from duo markers to colourful finger paint, right here at Trio Kids Singapore! 
With our art tools, you never have to worry about making a mess or having a huge cleanup after your child unleashes their inner Picasso ever again. Our products are suitable for creative minds of all ages ー even you can join in too! 
Signature Duo Markers 24pc, $27.90
Finger Paint Colours Set, from $24.90
Grab a kit or choose from anything that takes your child's fancy, and indulge in a fun and colourful time with your little one today!